Water Heater Services
in Greenville, SC
Local / Family Owned and Operated | Over 4 Decades of Experience
Quality Workmanship | Professional Service | Affordable Competitive Pricing
There isn't a more crucial element in your home than your water heater.
As the muscle that pumps hot water through your entire home, your water heater allows you to take hot showers, sterilize your dishes with boiling water, soak in a hot bubble bath, and everything in between.
As a result, when there's a problem with your water heater, it's much more than an inconvenience.
As any homeowner in Greenville County knows, temperatures can often dip to a chilly 30 degrees. Because of this, it can be a crisis when your water heater stops working.
That's why Ethical Plumbing is happy to fix your water heater whenever any problem arises. From routine maintenance and service to emergency repairs and water heater installation, we are here to make sure you never go a day without warm water.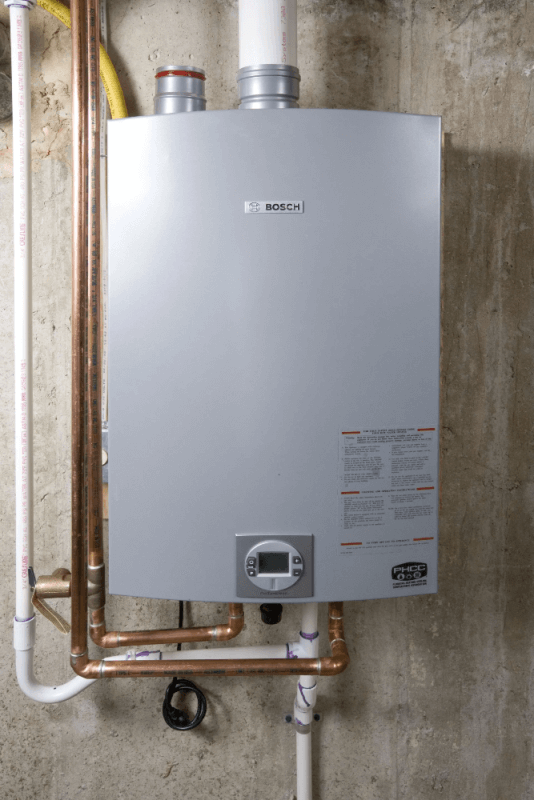 Water Heater Service, Maintenance, and Repair
In most homes, water heaters are put to work almost nonstop. Just think about how often you wash your hands. Then consider how many people in your house take hot showers, do laundry, and wash the dishes every day.
Because your water heater is in near-constant use, it needs a significant amount of care, attention, and maintenance.
Even if you don't run into any noteworthy issues, you should service your water heater at least once a year. When you call one of our plumbers, we'll flush out your water heater, which means we'll empty your tank with a hose and then refill it with clean water.
Completing an annual flush is critical to your water heater's health. Flushing cleans out sediment that builds up at the bottom of your tank. This excess residue hinders how well a water heater can work, and too much sediment will lead to an early expiration of your water heater.
Additionally, when we service your water heater, we'll do a deep inspection of your water heater and its parts to ensure it is in good health and will work properly for the following year.
We'll work hard to fix all of your water heater problems. From routine maintenance to repairing issues, we'll fix your heater so you and your entire family can enjoy hot water as soon as possible.
Water Heater Replacement
Even with annual inspection, proper maintenance, and adequate care, eventually, you will have to replace your water heater.
But how do you know when it's time to replace your water heater instead of repairing it or giving it a tune-up?
The most significant indicator is time. Most water heaters last around ten years. Occasionally, some water heaters can last longer than that, but they usually start to have difficulty working properly.
Therefore, if your water heater is approaching the ten-year mark, you may want to consider purchasing and installing a brand-new water heater.
Sometimes it can be difficult to know how old your water heater is, especially when you move into an older home. If you're unsure how old your water heater is, look for a serial number on its back. You can look up the water heater by this number to find out how old it is.
Another sign that you need to replace your water heater is if it has recurring problems. If you repair a leak and a new one pops up a few months later, it may be time to bite the bullet and upgrade to a new heater.
More signs that you need to replace your water heater include:
Excessive built-up sediment

Rusty inlets and pieces

Rusty pipes
If you notice one or more of these signs, you may want to replace your heater. If you're unsure if you need a full water heater replacement, we're happy to provide a free consultation to determine whether replacement is needed or not.
Choosing a water heater can be a difficult decision. That's why Ethical Plumbing is here to offer knowledge and guidance to help you make the right decision for your home and your budget.
Common Water Heater Problems
Although a water heater seems like a simple mechanism, the way it heats your home's water is through a rather complicated system. Each tank is made of dozens of small parts, pieces, and mechanisms.
When there are so many pieces involved, the chances are high that one of these pieces will break or need to be replaced. If this happens, problems can arise with your water tank, resulting in the need for repairs or replacement parts.
The most common water tank problem is that it doesn't produce hot water. Another common problem is at the opposite end of the spectrum: it produces water that is much too hot.
Your water heater can also have leaks, produce discolored water, or emit strange noises.
Here are some common causes of water heater problems:
A faulty temperature and pressure relief valve

Improper water pressure

Issues with overheating or underheating

A stuck valve

A leaking water tank

A faulty gasket
When you notice any of these issues, contact Ethical Plumbing. One of our water heater plumbers will come to your home, inspect your water heater, and address repairs and maintenance concerns.
Hiring a Plumber for Water Heater Repair Matters — Here's Why
You may think it's easy enough to handle your water heater issues and water heater installation.
However, attempting to fix your water heater without experience or training can lead to disastrous results. At the very least, you may inflict more damage onto your water heater without realizing it.
Since you're dealing with a mechanism that holds a significant amount of water, you could accidentally spray water over your drywall, furniture, or floors.
Doing this may result in some nasty flooding. And as any homeowner knows, water damage and flooding typically afflict thousands of dollars worth of damage and cleanup. Additionally, since you are responsible for this damage, there's a good chance your insurance may not cover it.
But perhaps most importantly, attempting to fix your water heater on your own can be dangerous or even deadly.
If you have a gas water heater, you can accidentally leak deadly carbon monoxide into your home when you work on your tank.
Additionally, gas heaters can have gas buildup inside that is difficult to detect if you don't have the proper training. This means that even just one spark can result in a deadly explosion.
To err on the side of caution, you must call a professional to repair or install your hot water tank.
The money you will spend hiring a water heater plumber is undoubtedly cheaper than the amount of money you may have to spend to clean up your home from water damage.
Turn to the Team You Trust — Ethical Plumbing
At Ethical Plumbing, we're excited to tackle any of your water heater problems. We're beyond confident that we provide the best water heater repair and replacement services throughout Greenville County and surrounding areas.
Our services include the following:
​​Repair and overhaul gas water heaters

Repair and overhaul electric water heaters

Replace or install all types of water heaters

Tankless water heater services

Routine maintenance services
In addition to excellent plumbing services, we also provide same-day appointments and are open six days a week so that you never go a day without a properly working water heater.
If you live in the Greenville County area, give us a call for a free water heater repair consultation. Contact our office to set up your same-day appointment today, and we'll send one of our expert, knowledgeable plumbers to your home.

We Keep Your Hot Water Flowing
Call us today
(864) 438-0525
Special Discount
$100 OFF
$50 OFF any water heater with installation (only 1 discount can be used per customer) Ethical Plumbing Service.